Wouldn't it be great to find out about the new gadgets that are considered innovative inventions because they save time and money? Well now you can with these 10 New Innovative Inventions #InnovativeGadgets 
There are people around the world who have dedicated their time to inventing cool gadgets that are made to make our lives easier by saving us time and/or money. Some of them are even made to make us lazier, but hey, that is what a good invention does. Remember the TV remote? That was a godsend, no more getting up to change the channels. This is a two page article that will provide you with a list of 10 new gadgets & innovative inventions.
1. Xtend-Climb-Telescoping-Ladder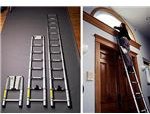 The first item on our list is selected because it is one of the most innovative inventions that were found in the search. It is a retractable ladder that can be folded up so small, that it will fit into the trunk of a car, yet it can be extended to as far as 12.5 feet.
Smelly shoes are among us, whether or not we want them to be. They come in the form of our children's sneakers or our own work boots. But even if your shoes aren't smelly, have you ever stopped to think about the amount of bacteria that could be living in it? Well, now you have the shoe sterilizer.
3. Transparent toaster

It is really a waste of money when you have to throw away your toast because it is burnt, it is also time consuming to toast another batch. But with the transparent toaster, you can watch the toast turn into that golden brown color that you like so much and get your toast the way you like it.
4. Self Stirring Lazy Mug
Okay, this is the mother of all cool innovative inventions in the lazy section. No more walking around with a spoon to stir your coffee or tea; your mug will do the stirring for you. This is great, especially if you are drinking a beverage that settles, you can simply mix it up again with the press of a button. You can get this mug at the
Gadgetshop.com
for a very reasonable price.
5. Digital Video Memo


Now you can leave a 30 second video message attached to the fridge, on the kitchen table, in the bosses office, on the night stand, or anywhere that you would have normally stuck that Post-it note. Push a button to record your message and the recipient will push another to see and hear your message, how simple is that?
For all you apple fanatics, you can now charge you "I" products on one charger at the same time! Charge
your iPod
, iPhone and iPad all in one place. You can even charge your BlackBerry and
eBook readers
. This had to be on our list of 20 new gadgets: innovative inventions.
7. Clip On Mosquito Repeller

This gadget is used to get rid of those
pesky mosquitoes
without having to spray your entire body with chemicals. Just clip the repeller to your belt and you will be free of mosquitoes within 15' radius of where you are.
If you are like me, you probably hate to swallow pills, and liquid medicines are no picnic either. Oftentimes, you may grind your tablets so that you can put them in your drinks or food, but you are left with chunks. Well, now you have your own personal pill grinder to get it professionally done.
9. Balanzza Mini Digital Luggage Scale


If you travel often, or even every now and then, you would not want to be in that embarrassing situation where your luggage is overloaded and you have to either pay more or send back some of your items. Use the Luggage scale to weigh your luggage before you leave home.
When you have that straight power strip that gets in the way because you cannot hide or bend it, it can be frustrating. Additionally, you may have that one power cord that simply can't reach the outlet because it is around the corner. Now you can change all that with the Pivot Outlet.